Andy and Lindsey made their nordic retreat warm and welcoming in the heart of Door County.

While studying abroad in college, Lindsey fell in love with Sweden's architecture and practical approach to life. The focus on simplicity and bonding with nature from inside a cozy room was a feeling that stuck with her. When she and her husband Andy decided to build a cottage in a former apple orchard in Egg Harbor, their main objective was to incorporate Swedish elements into a modern structure.
Mission accomplished:  the family of five now has the perfect getaway.
The home's black exterior—with clean lines and angles—closely follows minimalist principles. Inside, black is repeated everywhere from the cabinetry and light fixtures to window trim and artwork. This powerful use of color is made cozy and comfortable by blending in contrasting cabinets, white quartz countertops, blonde flooring and white walls.

One of the home's most beautiful rooms is the wide-open kitchen. With the help of a designer from Surroundings Home Furnishings Gallery in Green Bay, they selected oak and hickory for the tall sturdy cabinetry. They decided to be bold and go with black paint over 90% of the upper and lower cabinets and island. "Once we finalized the exterior and interior design, the only color that made sense was black," said Andy.

The oak grain is visible through the matte topcoat to reflect its strong, timeless character. A cashew-stained hickory pantry and range hood add a pleasing visual break amid the long span of black cabinets. The hickory accent cabinet topped with butcher block ties it all together with modern sophistication. Further, it highlights the room's functionality. Linear gold handles accentuate the kitchen's serious yet inviting style along with circular gold rings on the hickory pantry.

"The kitchen is the heart of the home," said Andy.
Overcoming challenges during a pandemic
As the general contractor, Andy's biggest challenge was finding sufficient crews and materials to complete the work during the Covid-19 pandemic. Swita Cabinetry, a dealer of Showplace Cabinetry, was one supplier that never stopped serving its customers. Showplace didn't stop either.
As Midwest companies, Swita Cabinetry and Showplace faced the pandemic head-on and continued to safely serve their customers. They didn't miss a beat in delivering great designs and exceptional products. Even when others in the construction industry couldn't deliver on time, Showplace worked diligently with its customers to maintain quality and honor timelines during a challenging year.
Both companies rely on American-made cabinets for their customer's new homes and remodeling projects. Andy was able to get everything he wanted from the cabinet companies for his dream home.

Experience is everything in great kitchen design
Andy and Lindsey had a clear vision in mind at the start of their project. They wanted their Swedish-style kitchen to be spacious enough for entertaining guests and have easy access to appliances like a beverage refrigerator. Ample storage along the high ceilings was a must. Meal prep areas needed to mingle within the large island that seats over a family of five.
Their vacation home had to be a place of beauty, comfort and functionality for everyone to enjoy. They knew it would take an experienced cabinetmaker to bring it to life. Pete Swita, owner of Swita Cabinetry, was referred by a friend for his ability to deliver great designs in a timely manner.

Pete sat down with Sue Nelson of Surroundings Home Furnishings Gallery and hammered out every detail. She didn't want a monochromatic kitchen, but one with interesting wood finishes and textures. Pete knew that Showplace Cabinetry could accomplish this with their selection of natural hardwoods, high quality finishes and wide range of modern features. He also specified Showplace because they could meet the construction timeline.
Swita Cabinetry and Showplace worked together to develop a show-stopping kitchen during a pandemic that could have presented many obstacles. The experienced cabinet companies stayed focused on their goals and met their markers. They kept the project on track by consistently communicating about product availability. The kitchen is definitely the family's favorite room.
No regrets
From high-end finishes to the solid quality construction of cabinets, there are so many details to love about this kitchen. But, what the homeowners appreciate the most is how the space makes them feel. "We can all be together because there is so much room," Andy said.

Sometimes customers will regret that they didn't do something such as installing stone countertops or a farmhouse sink. It can bother them for years. Andy and his design team made sure that everything was up to par throughout the building process. In the end, all his family had to do was sit back and make memories.
Kitchen design elements inspired by nature
From the minute you walk into the open living space, you're greeted by an impressive display of cabinetry. The hood range is a central focal point with its combination of rustic hickory and sophisticated black accents. The large hickory pantry and end cabinet with open shelving tie the variety of elements together.
This kitchen has so many great features both visually and structurally. The long island, for example, is an ideal workspace and meeting place. It's flanked by a butcher block top and is only steps away from other work zones.
"One of my favorite looks is how the oak grain shows through the black paint," said Pete "It takes a modern feature and subtly reveals its strength and longevity."
Oak tells a story without talking. And so does hickory. The light and dark patterns speckled with interesting knots add to the room's character. Natural hickory cabinets warm up a space that's dominated by black and white tones. Further, the strategic placement of hickory successfully creates the desired look for a Swedish home that gets its inspiration from nature.
Scandinavian style touches every room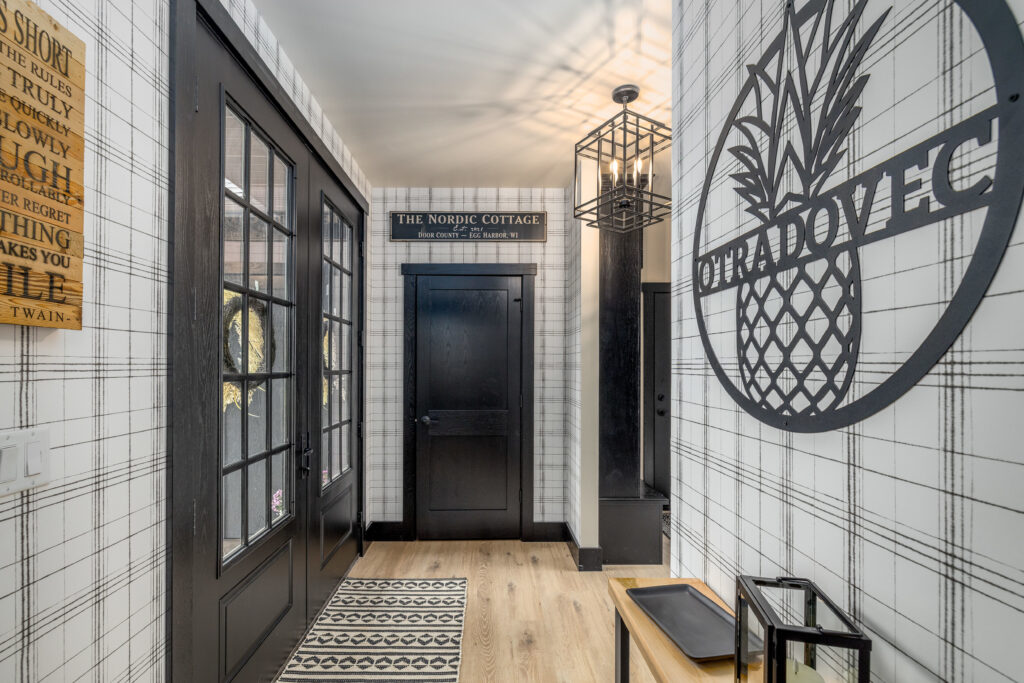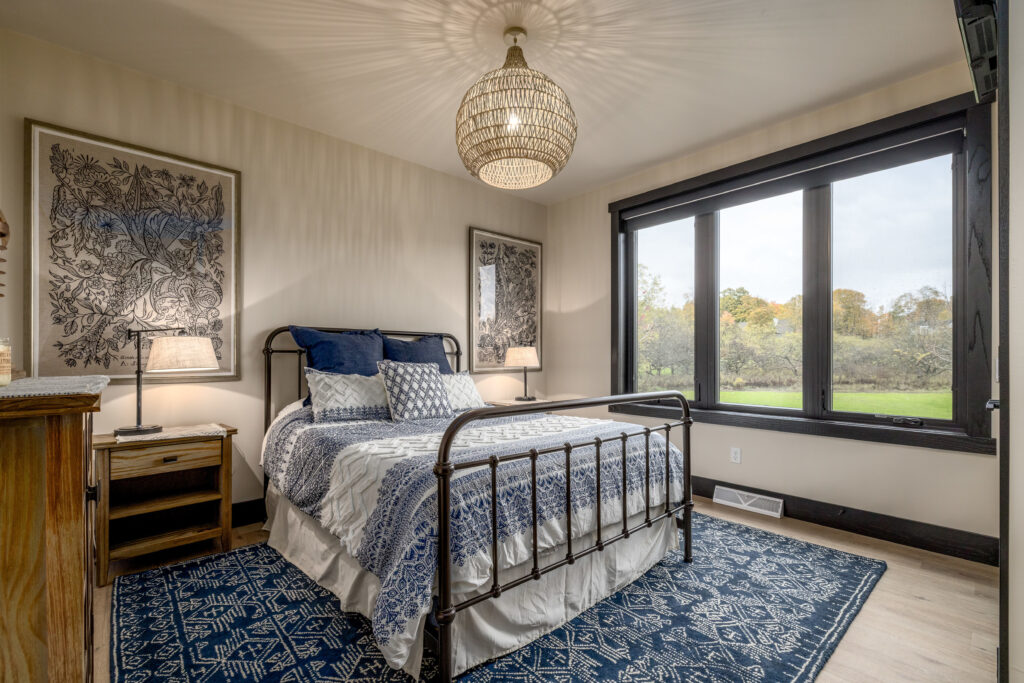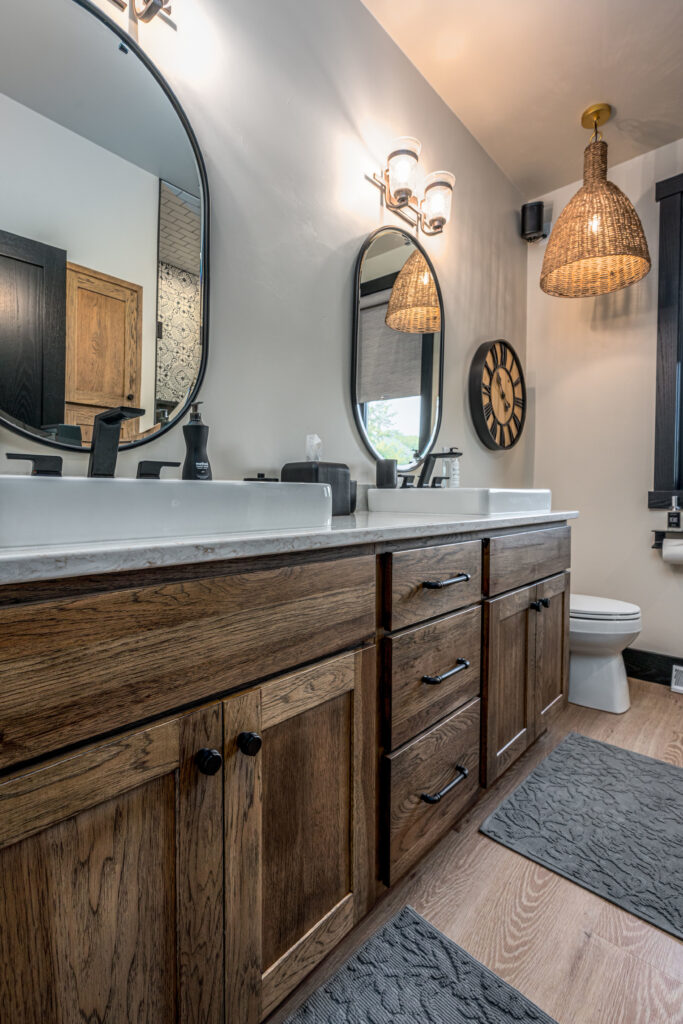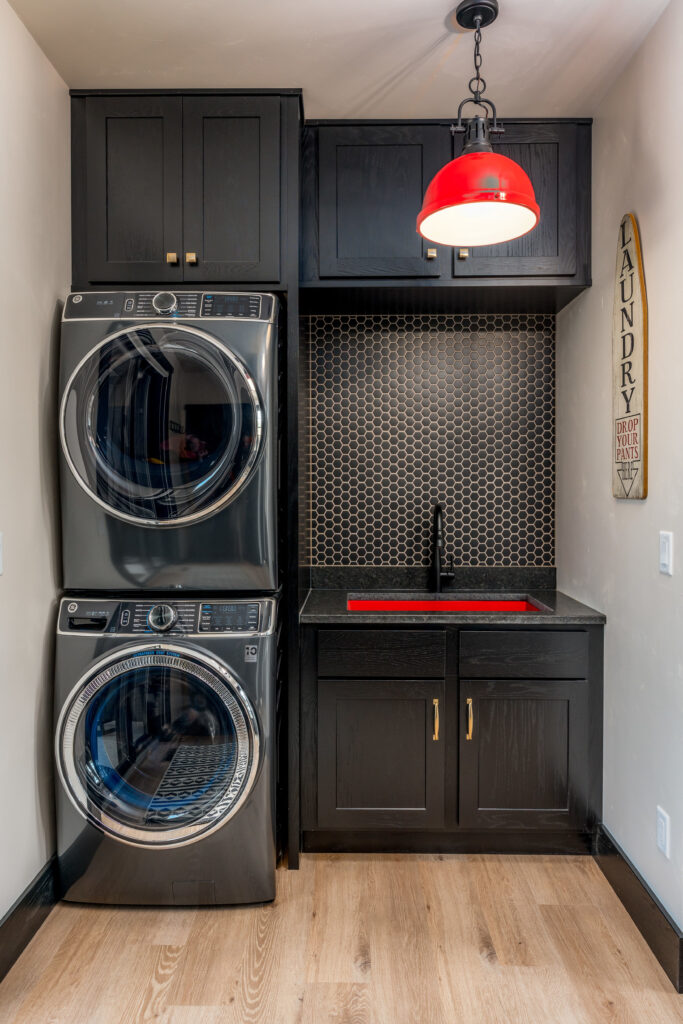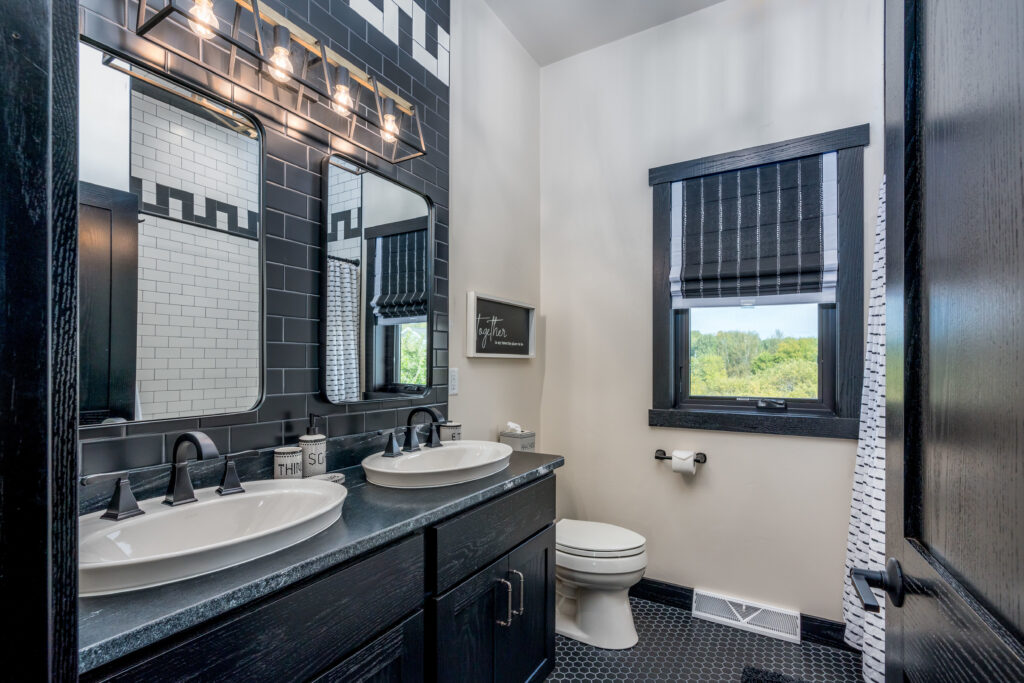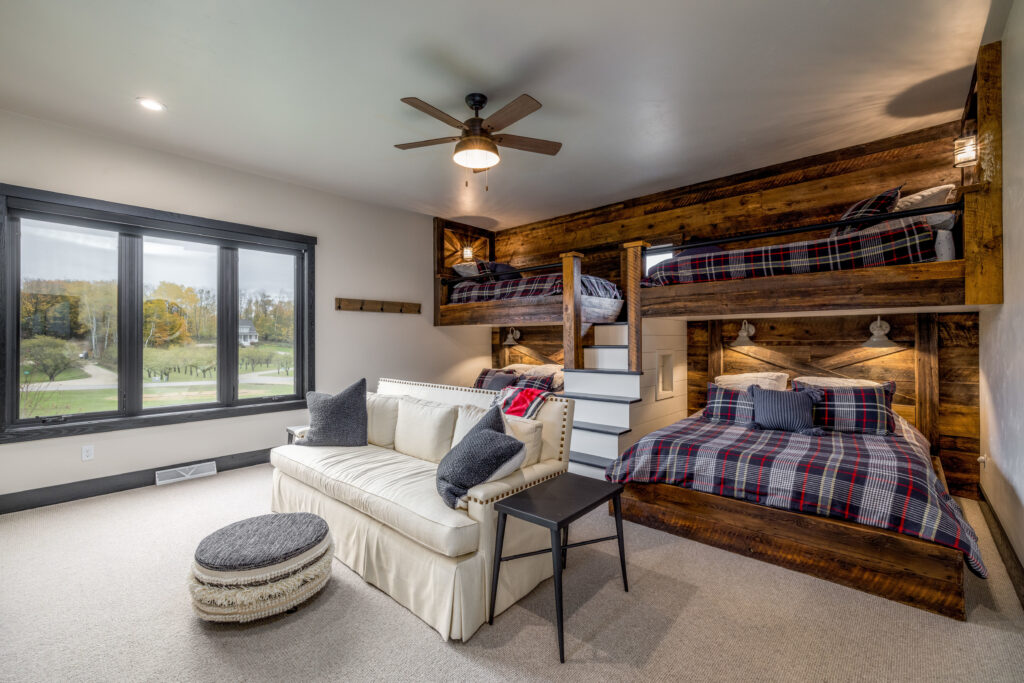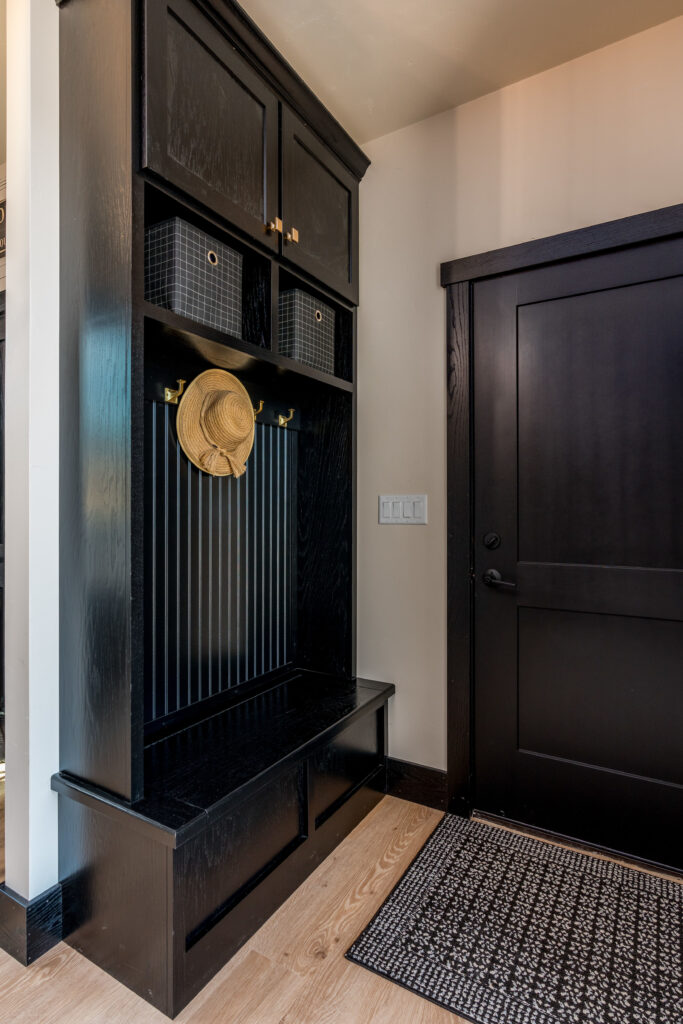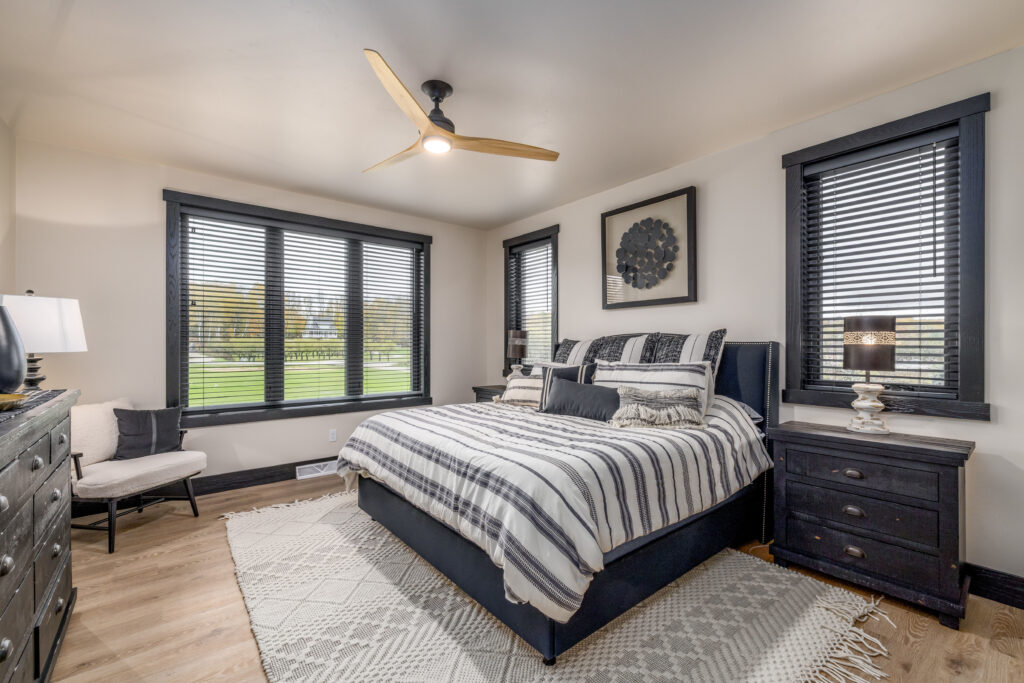 NEED MORE CABINET IDEAS FOR YOUR VACATION HOME? 
Visit our Facebook page @switacabinetry or Pinterest @switacabinetry.
Meet with us by calling 715-693-2670 or email karla@switacabinetry.com.
BY KARLA SWITA

Karla is married to Pete and together they own and operate Swita Cabinetry.