Follow these simple tips for ordering quartz countertops:
Select your design

Get an estimate

Place your order

We visit your home for templating

We install your new countertops

Quartz is hot right now. It's one of our most requested kitchen upgrades. With so many design options, it's no wonder this durable material has become a top choice in natural stone countertops.
If you're thinking about replacing old kitchen or bathroom countertops with quartz, visit our showroom to see a variety of designs. It's helpful to bring along a cabinet door, wall color swatch, backsplash tile, or flooring sample for matching colors and patterns. Also, pictures help us get an idea of your space as well.
Select Your Countertop Design
At our independent kitchen and bath showroom, we offer the top quartz brands including Cambria, Silestone, Viatera and Caesarstone. Cambria, made right next door in Le Sueur, Minnesota, is one of our favorites because, with up to 200 design possibilities, it never disappoints. It's naturally beautiful like granite but never needs sealing or polishing. And it's nonporous so spills and harmful bacteria won't be absorbed.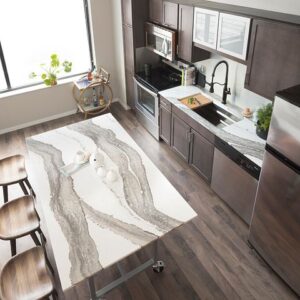 Our Swita Cabinetry showroom in Mosinee–between Wausau and Stevens Point–has five towers of Cambria's most popular designs with 12″x 12" samples that you can check out and take home to match in your own space with your own lighting. Whether you're looking for something with bold movement, subtle veining, jewels or marbling, we'll help you select the right design.
Get Your Estimate
It's helpful to bring along a sketch of your countertops with dimensions so we can prepare your estimate and email it to you promptly. On a piece of paper, simply draw your cabinets using simple rectangles and label the length and depth in inches. Mark the locations of sinks and appliances. If you need top removal and disposal services, let us know before we prepare your estimate.
You'll be happy to know that most of Cambria's designs are one price point, except the Luxury Series, so you can fall in love with any of them without changing your budget.
Place Your Order
From order to installation, it takes about three weeks to get your new quartz countertops. Call us or stop in to place your order and make a down payment for half the cost. Your final payment is due upon installation. We'll contact you to schedule the first of two in-home visits.
Home Visit 1 – Templating 
During our first visit, our fabricator will take precise measurements for templating. You'll need to be there in case he has questions. This visit can take one to two hours. Unless it's provided by us, you'll need to have the sink on-site so we can take it back to the shop for fabrication. It's not essential to have faucets at this time, but we'll need them during installation for drilling the holes.


Home Visit 2 – The Big Reveal
It's installation day! Start by having the countertops removed and unhook any plumbing, electrical or gas lines. Finally, you may need to schedule a plumber to come back the next day and hook things back up.
When we clean up and leave, your beautiful new countertops are ready to use.


Why Cambria Quartz Countertops?
The leader in innovation – with the most designs available and the most depth and richness all the way through each slab.
The natural choice – 93% pure, natural quartz is one of the hardest minerals on Earth.
High performance – strong, scratch resistant and never needs sealing or polishing.
Nonporous – no worries about staining or absorbing bacteria.
Warranty – the best lifetime warranty in the business that's even transferrable.
Environmentally friendly – from responsible mining to recycling water used during processing, Cambria is dedicated to preserving our environment in every way possible.
American Made – Cambria is the only family-owned, American made company in the quartz surfaces industry.


SEE QUARTZ COUNTERTOP SAMPLES 
Visit our Facebook page @switacabinetry or Pinterest @switacabinetry. Make an appointment to stop by our showroom:  call 715-693-2670 or email karla@switacabinetry.com. 
---

BY KARLA SWITA

Karla is married to Pete and together they own and operate Swita Cabinetry.