You've selected a beautiful granite countertop that'll match your new kitchen cabinets and complement your hardwood floors. Now it's time to pick out the right backsplash. But where do you start with so many choices, styles and colors out there?
To help visualize your new space, create a vision board that brings together pictures of the elements going into your kitchen makeover. Include colors, styles, materials and textures.

Kelly Knipper of Floorology in Rothschild uses visualization to activate her client's imagination. "We gather samples of the materials they picked out and talk about their goals for color and style," says Kelly. "From there we'll pull options in their colorway, and even include one wildcard sample that's completely different just to challenge their thinking. You'd be surprised how many people get excited about an option they never thought of before."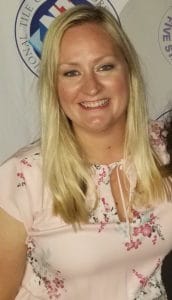 Create an Online Vision Board
Pinterest is one way to build a collage of ideas. Simply create your board with a title like "kitchen makeover" and add pins to it. You can make it public or secret.  Then, fill the board with pictures of your countertops, cabinets, floors and wall colors. Also, include pictures of your favorite backsplashes.
Take Your Idea Board and Room Dimensions to a Designer
Visit a tile showroom for design ideas and an estimate. With so many tile options on the market, you'll want to see tile designers who are aware of the latest and greatest. Take along your computer drawings of kitchen cabinets and countertops from Swita Cabinetry. We also have countertop samples that you can check out for accurate color matching.
What's Popular: Picking Your Style
Subway tile still tops the charts. The classic 3 x 6 brick shape in white is constantly being reinvented in a variety of colors, shapes and textures. "Now companies are coming out with a rippled subway tile or ones with a burned edge effect for more visual texture," says Kelly.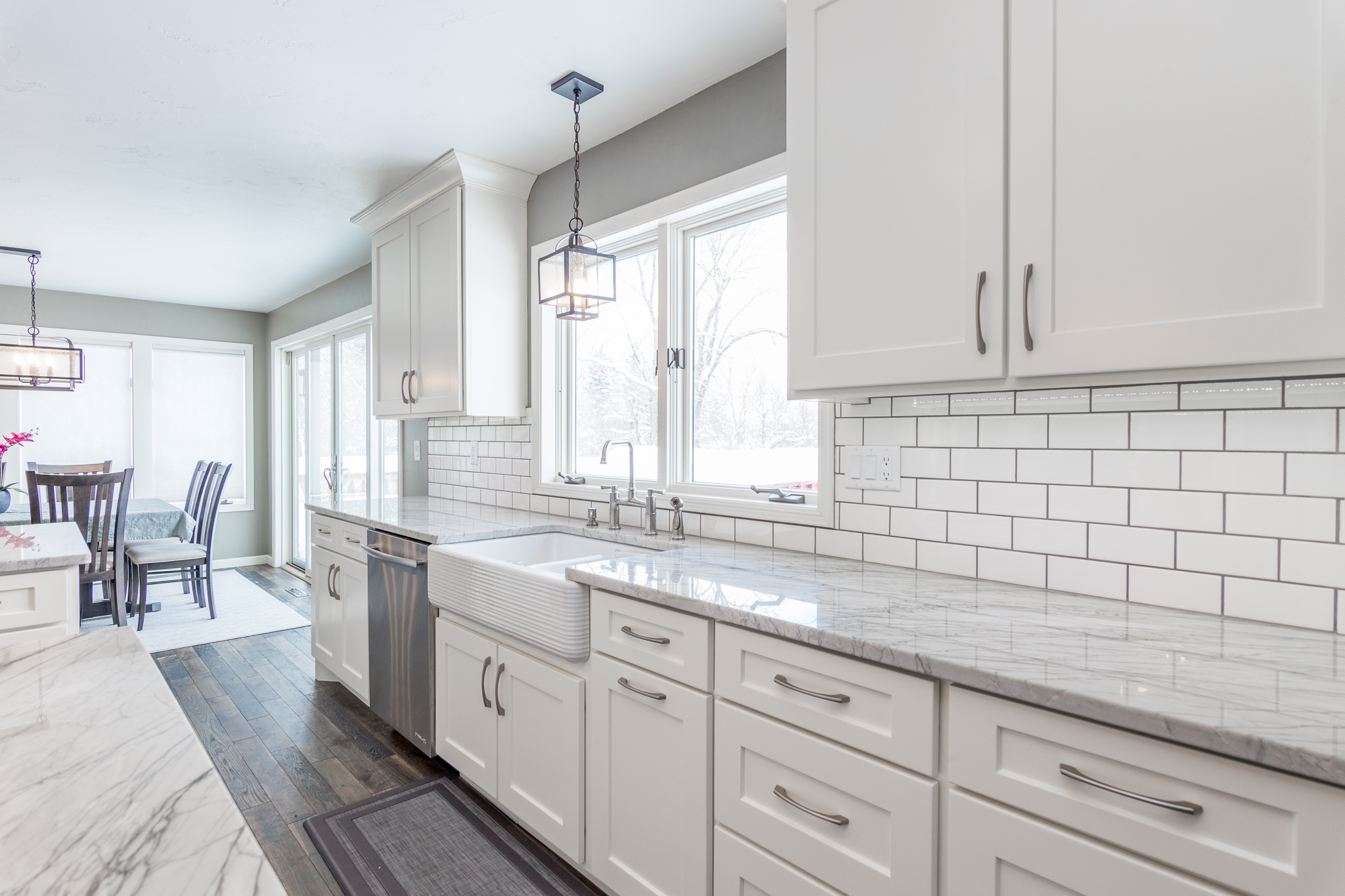 Full-height backsplashes are another big trend for dramatic looks and easy cleanup. They're made of large slabs of stone or solid surfaces and span the countertops to the cabinets. We're even seeing them go all the way to the ceiling in luxury kitchens. Homeowners love how the uninterrupted surface looks with minimal seams.
Salvaged materials like metal and wood are also popular. With the farmhouse trend that's sweeping across America, we're getting requests for barnwood walls and other reclaimed woods at Swita Cabinetry. As for matching countertops, opt for something more subtle like soapstone that won't conflict with all the texture and character of such backsplashes.
Matching or Contrasting Tops and Walls
Complex or colorful backsplashes go best with solid countertops. Likewise, bold patterned countertops work best with backsplashes that have a subdued uniform color palette. "If everything is a similar shade, we recommend contrasting the backsplash," Kelly says. "If the countertop is super busy and has lots of veins, we usually try to pull one of the vein colors and do a more simple tile to let the countertop be the focus of the room."
Tips on Tops
Granite & Stone – For a uniform look, consider continuing the same countertop right up the wall. It's a great look that fits modern and transitional styles. Just be careful not to overwhelm your space with a busy, bold pattern in a room that already has a lot going on as far as multiple cabinet colors and bold fixtures or accents.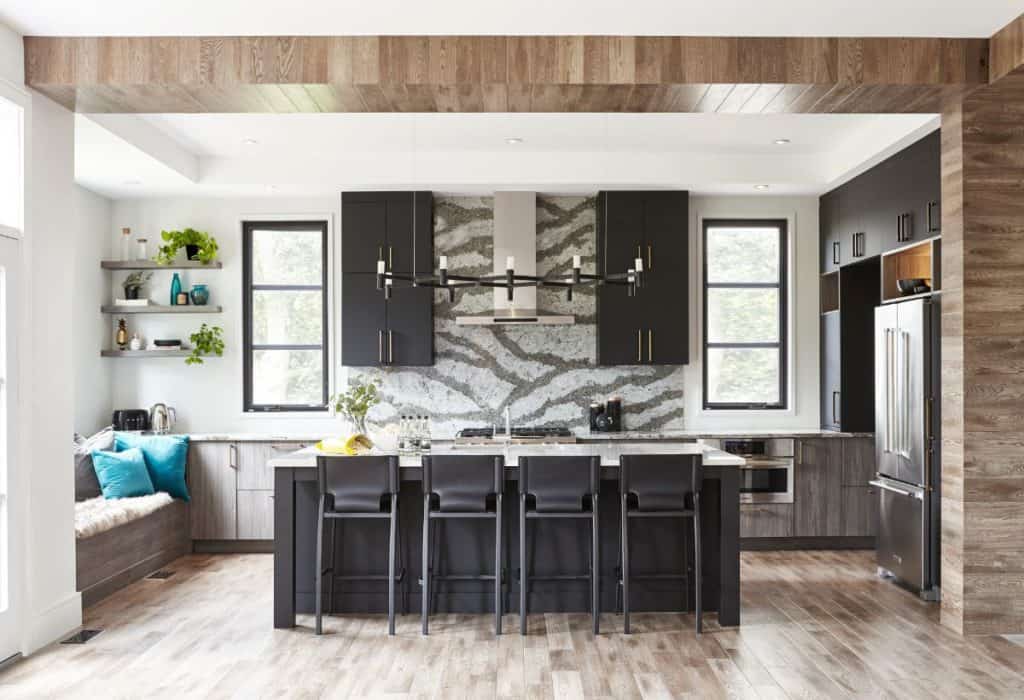 Solid Sheet – A solid sheet of material behind your cooking areas is much easier to clean than a backsplash with grout. It also looks pretty cool. Popular options include stainless steel, glass and solid surface. If you want a maintenance-free backsplash that's non-porous, mold resistant, and complements granite and quartz, there's Corian with its subtle beauty. Corian can be machine-routed to mimic a variety of tile shapes.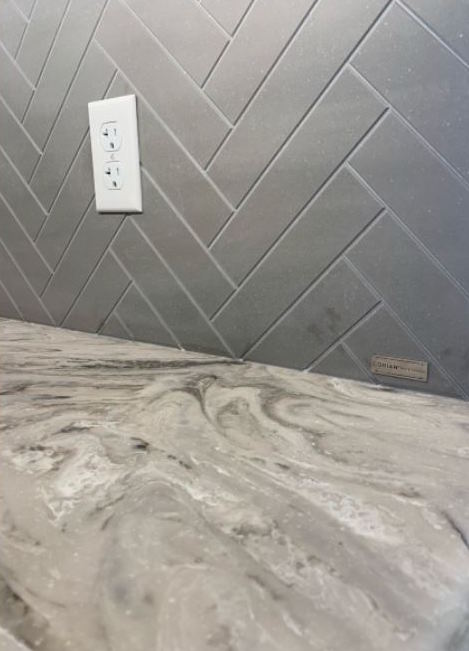 Laminate Countertops – An inexpensive alternative to stone and solid surface, laminates are traditionally ordered with the standard 4" formed backsplash. Order the tops without an attached splash for a more authentic look. Then, finish it off with tiles that meet your design goals.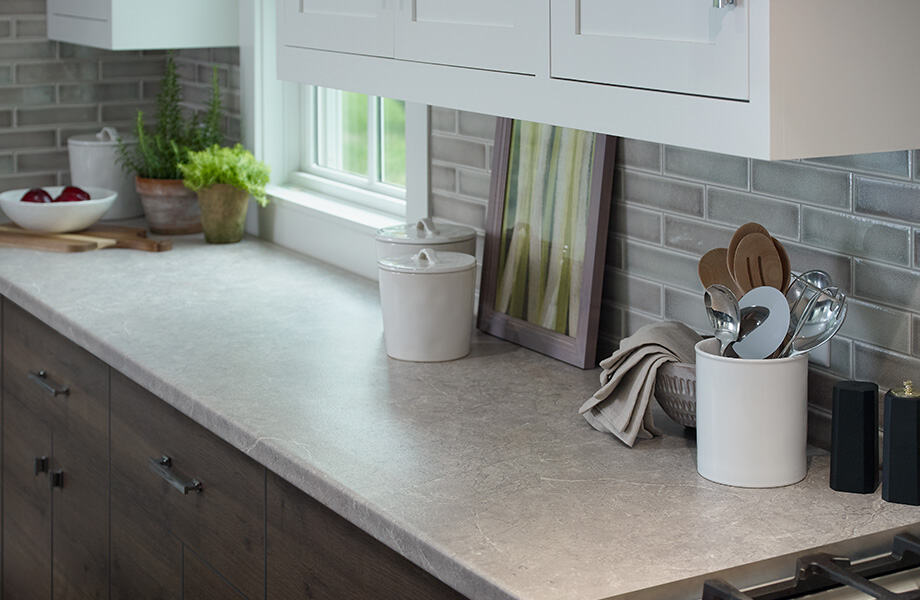 In short, think of your backsplash as an extension of your countertop. The two should come together as one theme. Consult a design professional for the best results. They know reputable installers and will help you avoid issues down the road.
WHERE TO GET MORE IDEAS 
To visit a tile showroom, see Kelly at Floorology or www.floorology.com. If you're thinking about a kitchen remodeling project, contact us at Swita Cabinetry to help you get started: call 715-693-2670 or email karla@switacabinetry.com.

---

BY KARLA SWITA
Karla is married to Pete and together they own and operate Swita Cabinetry.