Outfit Your Personal Workspace with Custom Cabinetry and Improve Productivity
If the coronavirus pandemic has you working from a makeshift office in your dining room, now is the perfect time to upgrade your workspace.
A home office should be a place of peaceful productivity. An area that's well organized and feels welcoming makes you want to wake up and seize the day. Custom cabinets are key to making this space organized and tidy where everything has its place.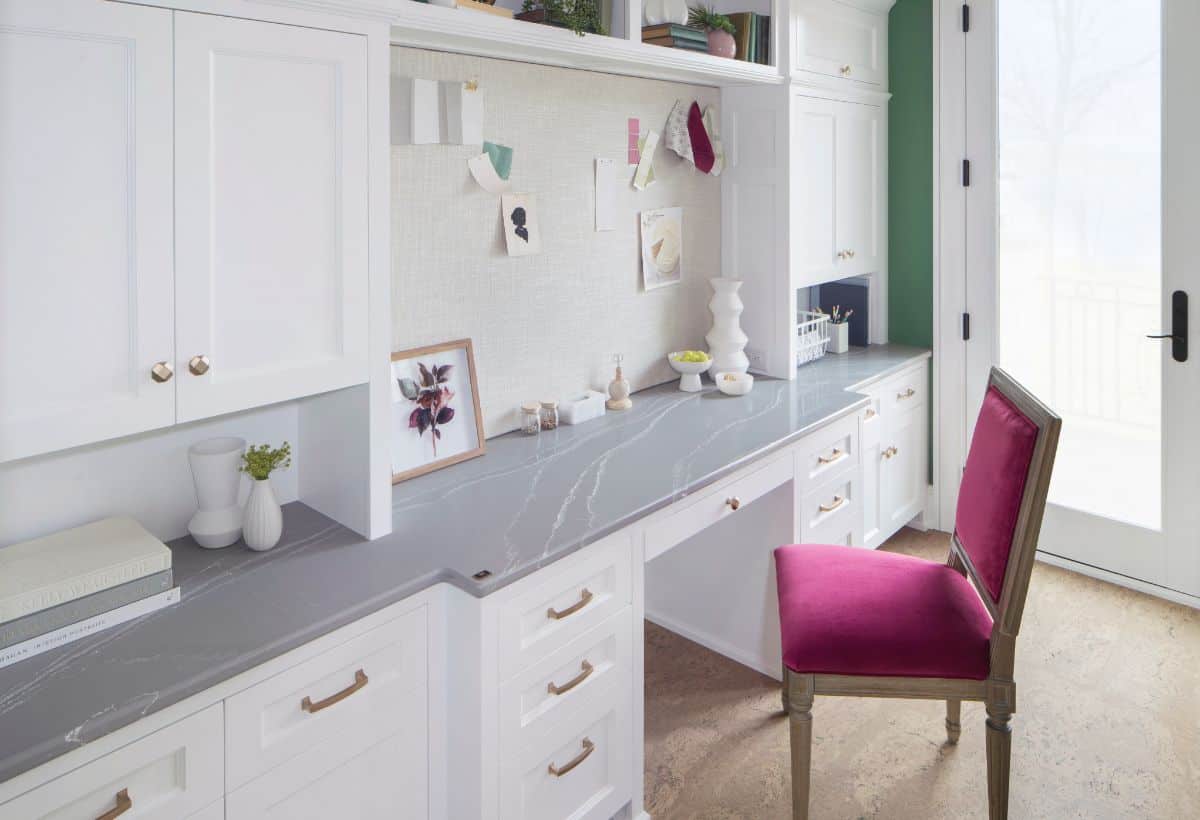 Three elements of a well-designed workspace
Location. Location. Location.
The best office is one that's away from all the hubbub. But, maybe you don't have a separate room where you can shut the door to the kids and a barking dog. That's where customizing a space comes in. Think of rooms in your home that could be upgraded with cabinets and countertops such as a family room, laundry room, or spare bedroom. Can you take one room and transform it into a multi-use area? One customer wanted to turn an extra room downstairs into an area for crafting, working at a computer and overnight guests. The perfect solutions included a wallbed, custom closet with storage shelves and a computer desk with a matching credenza and bookcases. Another couple who simultaneously worked from home opted for a doubled sided desk and wall shelves for maximizing storage.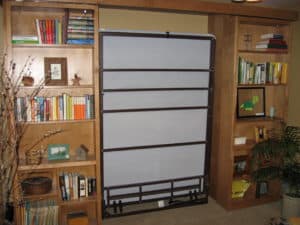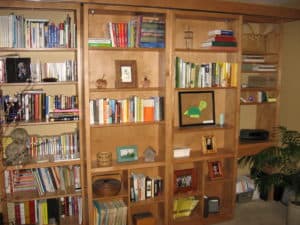 Whether you're upstairs or downstairs, the goals are to limit distractions and improve workflow. Swita Cabinetry helps you considers positioning, storage needs, comfort and style in the design of your home office cabinets.
Make Your Space Stylish
You spend hours working so why not make the office look as good as it performs. Are your tastes modern with white painted flat panel cabinet doors and straight lines? How about traditional with rich cherry raised panels that you'd see in a  home library? If you're really looking for impact and have high ceilings for lots of bookshelves, add a rolling ladder for a classy touch. Embellishments like specialty materials, architectural mouldings and complementary hardware can help transform a plain room into a stylish and productive one.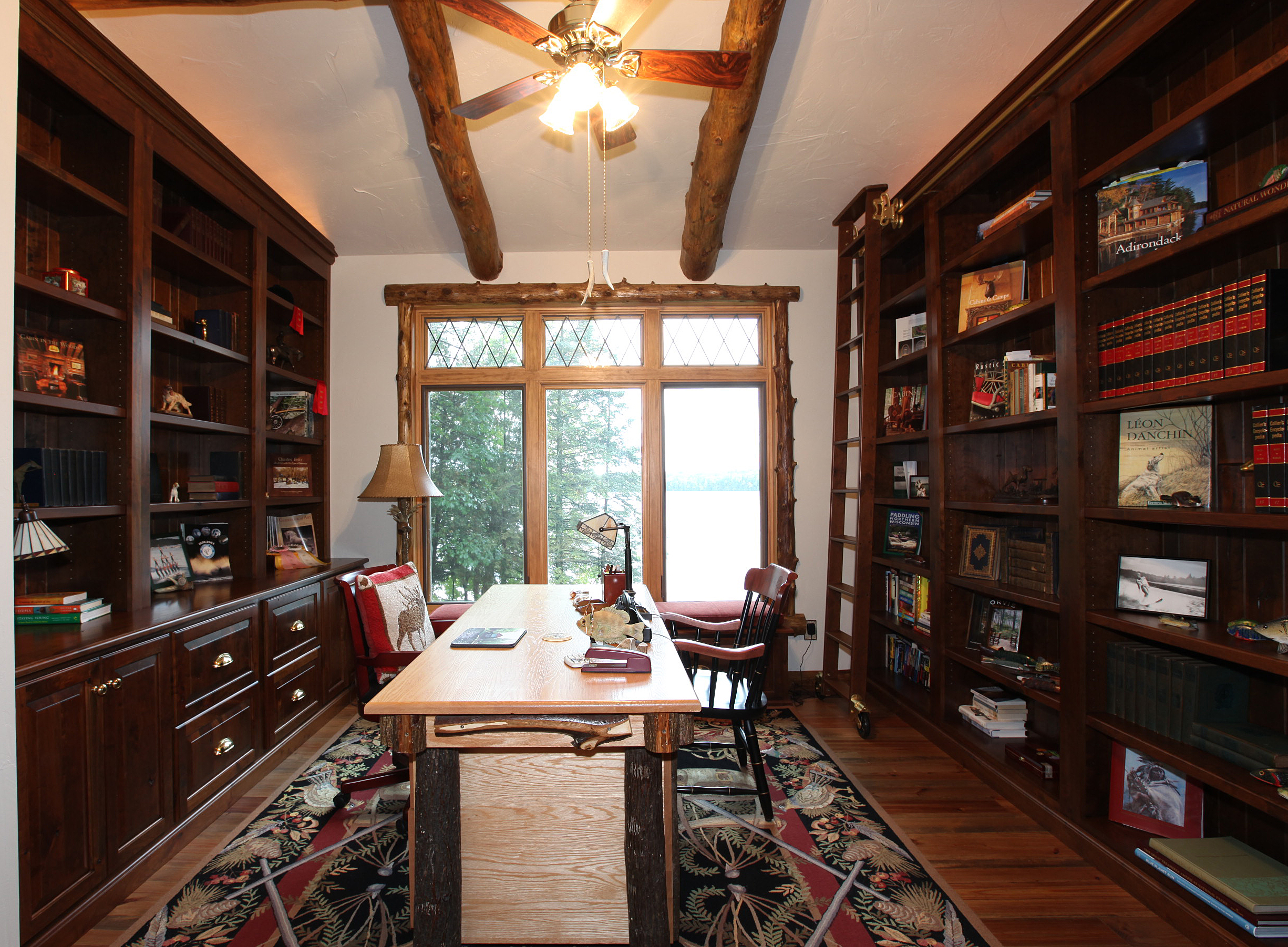 Form Flows with Function
As cabinetmakers, we combine form and function to create a seamless workspace and enjoyable environment. Storage cabinets that serve to hide things are attractive with tasteful doors and hardware. Open shelves — or the popular floating shelf — offer decorative space for framed photos and keepsakes. Countertops of wood, granite, quartz or solid surface make durable work surfaces. With so many design options and colors out there, it's easy to find one that creates a signature look.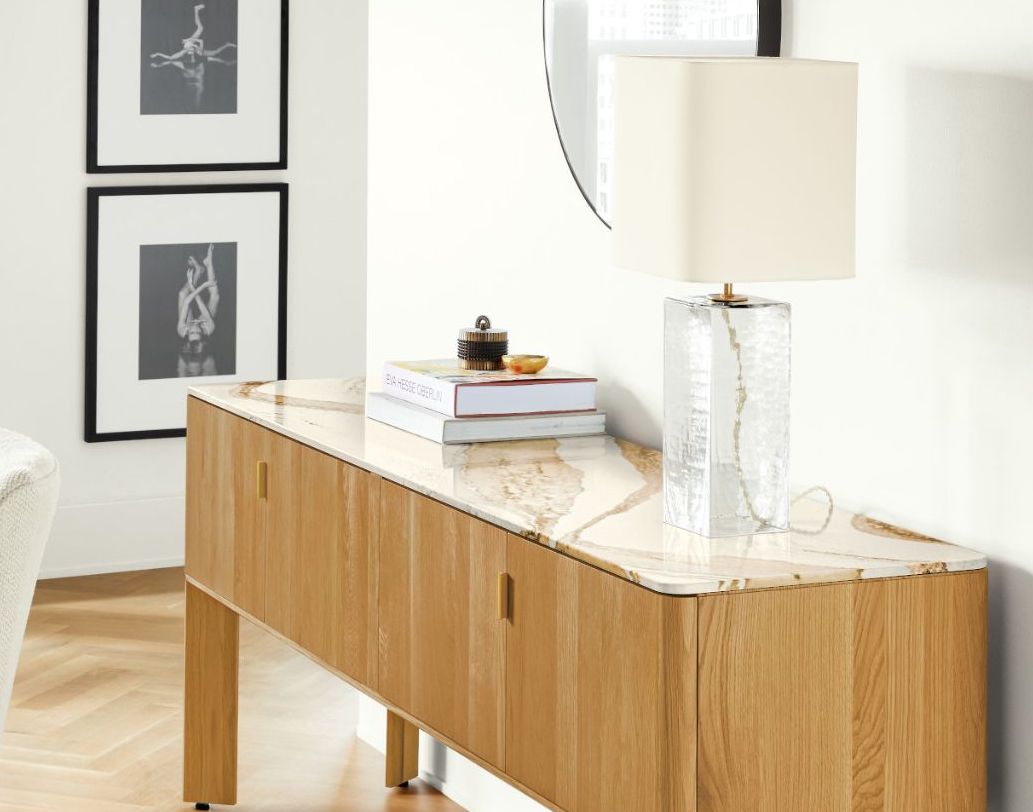 Cambria quartz surfaces make gorgeous tops for desks, credenzas, printer tables and sideboards. If your type of work requires a media station, go with an armoire or other furniture-like cabinets that look sophisticated when standing alone. And, don't forget to think outside of the box when in the designing phase. You may enjoy a beverage cooler of coffee bar incorporated into your new space.
When choosing office furniture and cabinets for your home office, remember to consider location, style and function in the creation of your new workspace.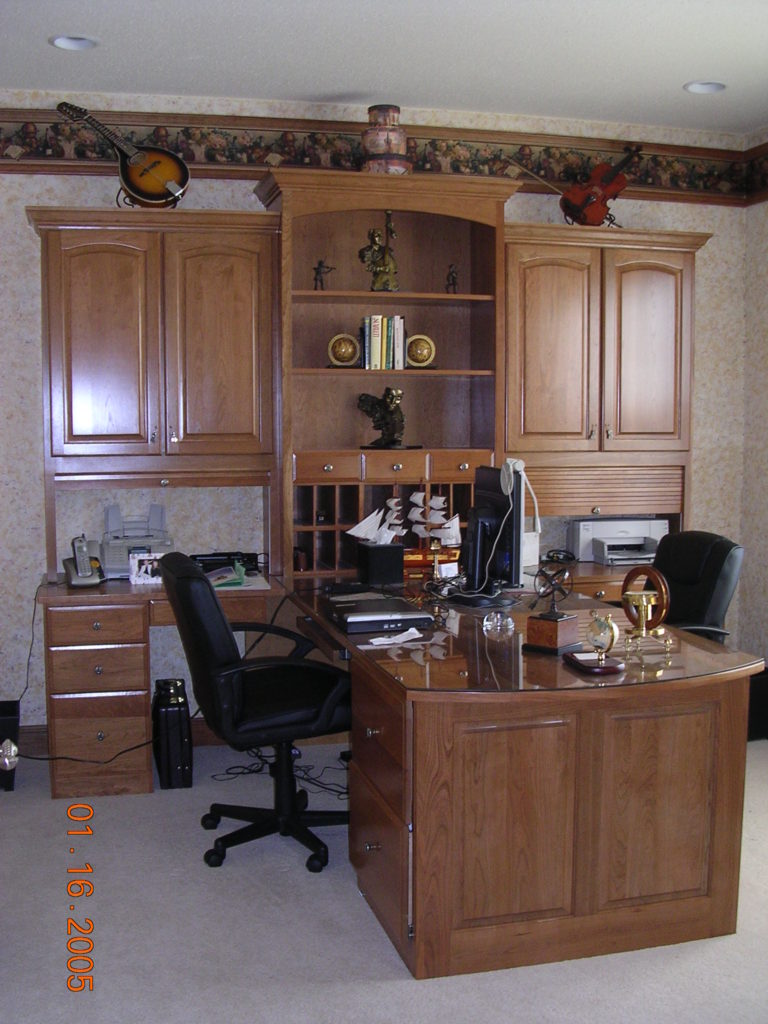 At Swita Cabinetry, we custom design commercial and home offices that include:
Computer desks
Corner or L-shape desks
Dual-sided desks
Armoires
Credenzas
Filing cabinets
Secretary desk
Printer stand cabinets
Bookcases
Sideboards
Built-in units
Wall storage cabinets with adjustable shelves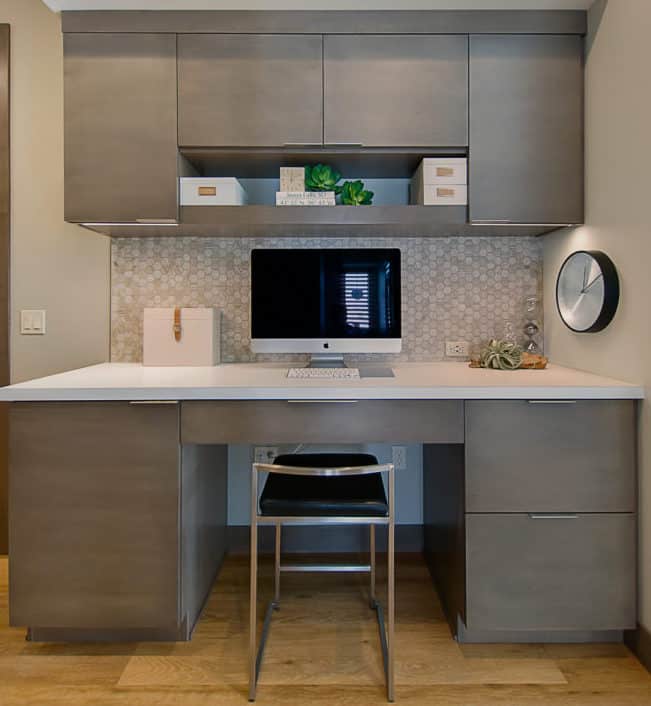 WHERE TO GET MORE IDEAS 
Visit our Facebook page @switacabinetry or Pinterest @switacabinetry.
Meet with us by calling 715-693-2670 or email karla@switacabinetry.com.
---

BY KARLA SWITA

Karla is married to Pete and together they own and operate Swita Cabinetry.