THE STYLE | Traditional with Hints of Modern Farmhouse for Glamorous Results
What is traditional style?
As one of the most popular styles, traditional includes several design elements from a variety of centuries, feeling classy and comfortable all at the same time. The look may have some curves and designs, but it's not overly ornate. In kitchens, you'll see glazed cabinet doors and some with glass for displaying interiors. Islands have furniture-like features such as corbels or decorative legs and luxury countertops are preferred.

What is modern farmhouse style?
It's that cozy authentic look that comes from natural elements fashioned into sleek clean lines of contemporary design. Think of textured accents and metal surfaces. But nothing fussy. Minimalism is definitely at play. Kitchens are terrific rooms for displaying this style as they can incorporate so many telling aspects including farmhouse sinks, stainless steel appliances, chrome gooseneck faucets and stone countertops.

How did the homeowner glam it up?
Working with a neutral color scheme—a key characteristic of modern farmhouse—the homeowner used soft grays and whites everywhere instead of just whites. She balanced traditional and contemporary aesthetics with a mix of painted and natural custom cabinetry. Wood plank floors met up with modern tile patterns in entryways and bathrooms. Brushed gold hardware dressed up gray kitchen cabinets. And for the stone fireplace, she used a modern gray natural ledge stone that sparkled a bit. Her choices truly show off a sophisticated, yet relaxed and comfortable style.

THE HOME
From the moment I entered this home, I was caught up in all the pretty details. I loved everything from the calming gray tones and  fiore patterns to velvet kitchen barstools, cabinets and light fixtures. The homeowner, Jan, did a remarkable job of bringing together elements that seamlessly flowed from room to room.
Some of her architectural ideas came from parade homes and internet searches. By sharing her vision through photos and drawings with contractors and suppliers, Jan was able to help them create the perfect place. And not just for her, but her parents as well.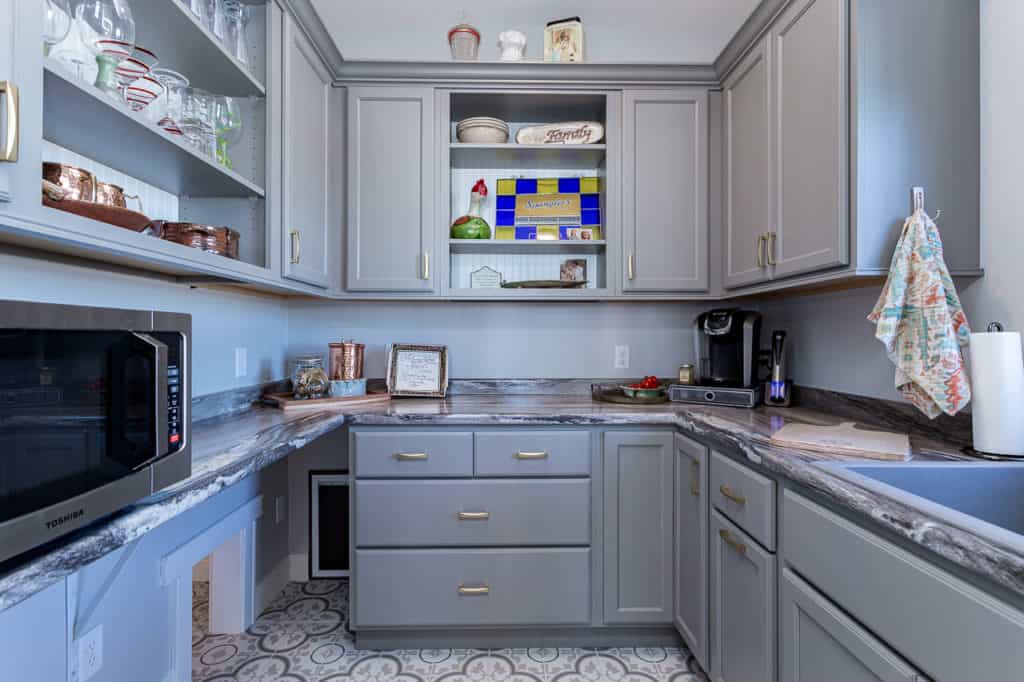 Set out in the country among rolling hills, Jan's home—a modern ranch—near her sister's farmland, includes a parent suite (aka in-law suite) for when her mom and dad are back from Arizona. They're a close family and obviously enjoy each other's company which shows in the more personalized items displayed in the butler's pantry, another well-appointed area. It's outfitted with ample gray cabinets and countertops, as well as customized doggie doors so her pair of English bulldogs can let themselves in and out.

At the heart of the home is the wide open kitchen with a long welcoming island topped with Cambria quartz in Brittanicca, a creamy marbled design with meandering veins of ashen gray and faint charcoal speckles. The gray painted island is highlighted with a white glaze that adds to the room's serenity. Above the range is a classic white wooden wall mount hood that matches the perimeter of white cabinets. Upon closer inspection, you'll notice how Jan chose to enhance shadow lines with a gray glaze. Another signature touch.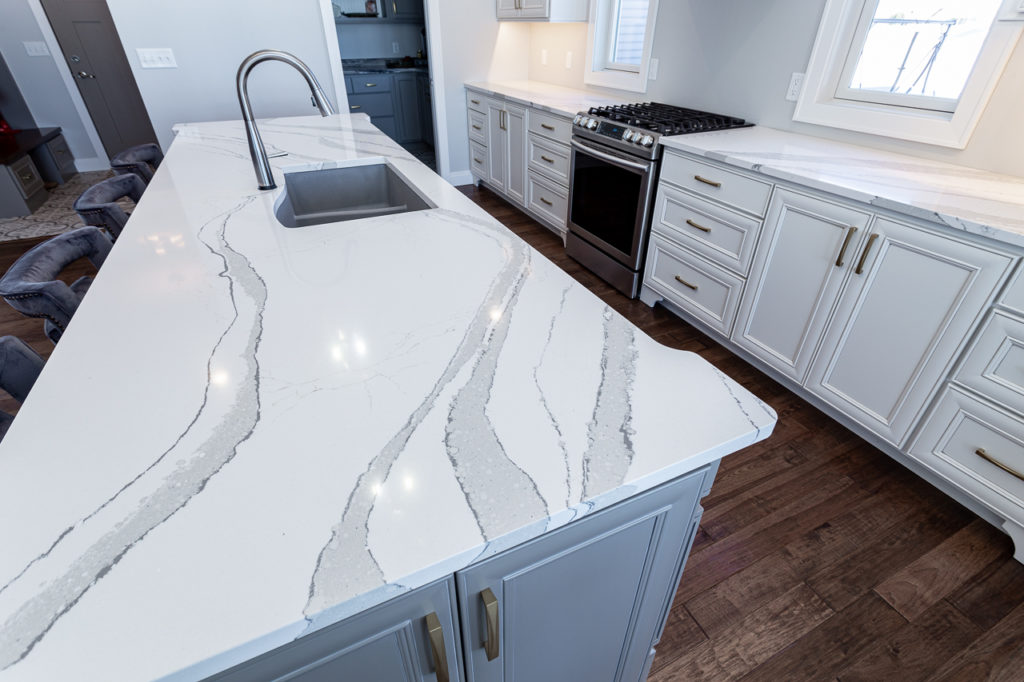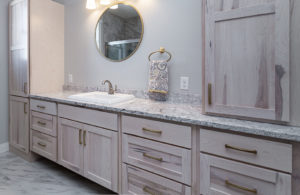 She truly made the most out of the endless options available with custom cabinetry, including a choice of any color you can imagine. Bird's egg blue laundry room cabinets were selected to dress up a utilitarian room. Although quartz countertops were used in more visible rooms like the bathrooms and kitchen, Jan opted for laminate countertops here to cut costs while achieving the look of stone with a charcoal slate pattern. The washroom conveniently connects the two living spaces and is shared by her parents when they're in town.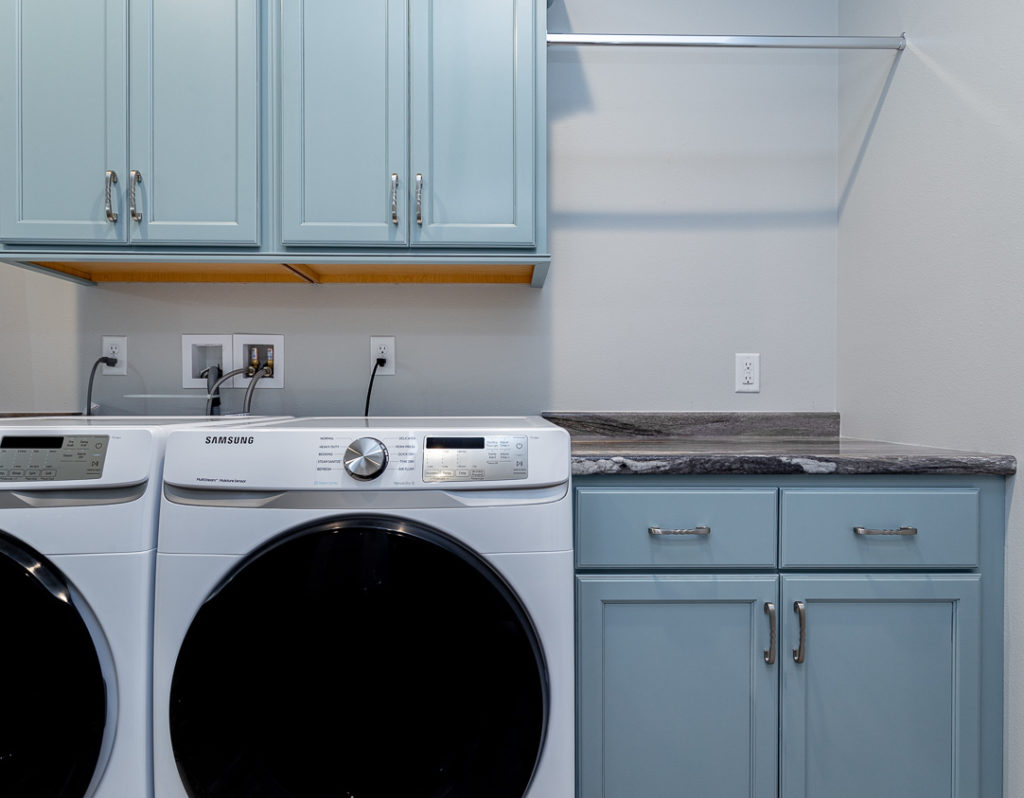 As for the other side of the house, a gray palette carries throughout from smokey gray hickory master bathroom cabinets to driftwood-like flooring.

The calming neutral backdrop of the parent suite creates a welcoming interior that mixes modern accents with the warmth of natural elements.
By creating a serene comfortable atmosphere, this home is ready for multigenerational living where adult families can live peacefully under one roof.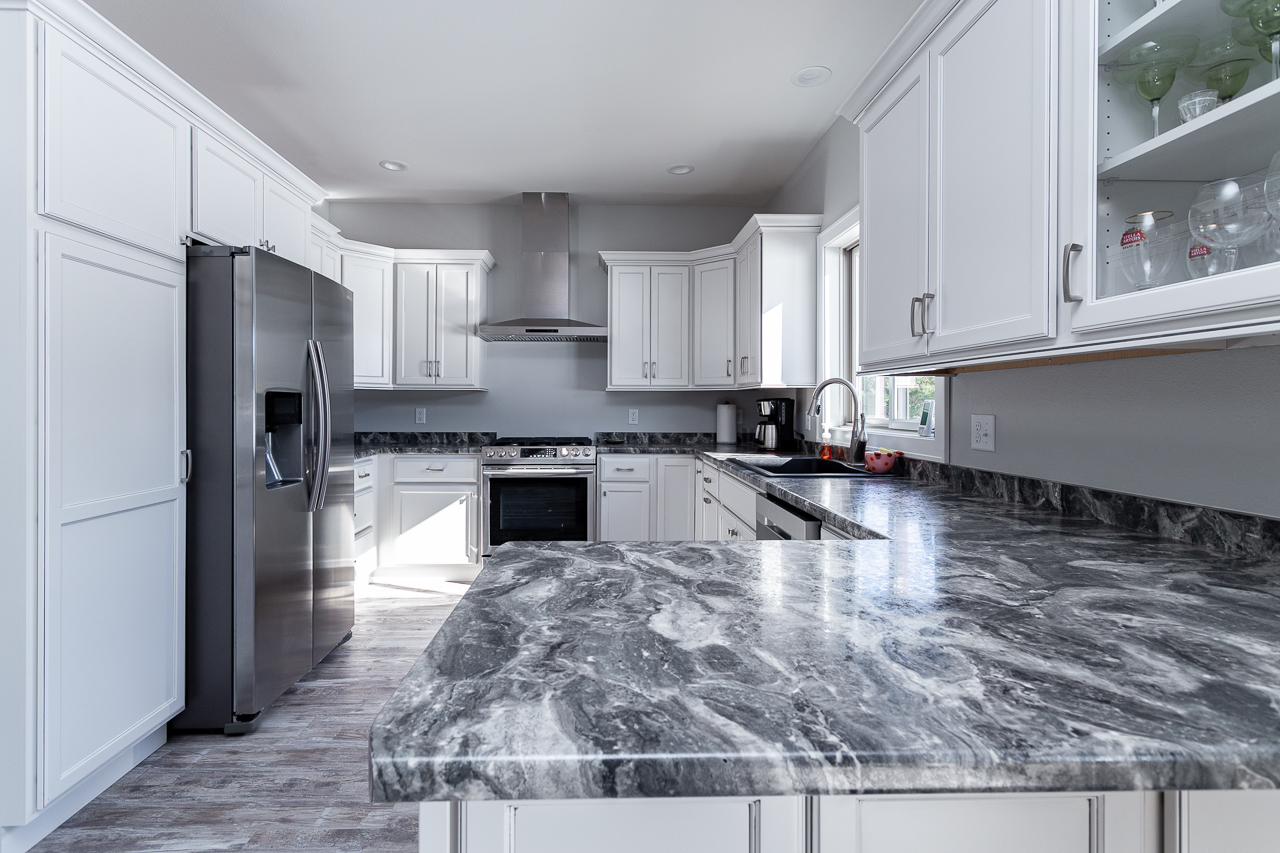 WHERE TO GET MORE KITCHEN & BATHROOM CABINET IDEAS
Visit our Facebook page @switacabinetry or Pinterest @switacabinetry.
Meet with us by calling 715-693-2670 or email karla@switacabinetry.com.
---

BY KARLA SWITA

Karla is married to Pete and together they own and operate Swita Cabinetry.